The Trust will seek funding from individuals, families and foundations for the purpose of periodically making grants to various organizations, groups, and activists appropriate to its mission.
An example of the kind of project that the DGT would like to be able to support is the Temple Forest Project in Sri Lanka. In Sri Lanka, sacred forest groves have traditionally surrounded temples or shrines. The 'temple forest' or Aranya has been referred to in Buddhist texts as far back as 200 A.D. Recent works by scientists at the NeoSynthesis Research Centre (NSRC) in Sri Lanka, have demonstrated that these temple forests are, in many areas, also the last refuge for native biodiversity.
The Temple Forest Project concerns the forest of the Watarakkgoda Raja Maha Viharaya Temple which lies about 50km from Kandy. The temple has a history that goes back to King Walagamba around the 9th century. The Bodhi Tree there is said to date from this time. The temple was abandoned from the 13th to the 17th century and restarted in 1785. Today, Rev. Dodankumbure Deerananda presides as head priest.
The temple forest includes ancient trees of Satin wood, Jak, Mango, Fish Tailed Palm, Areca nut, Breadfruit, Madhcca, Termanalia arjuna, Noelitsea, Caryea arborea, Termanelia bellerica, Phyllanthus embillica, Sysigium sp.,Velang, Lunumidella, Karanda, Gan Sooriya, Ficus sp., Ironwood, Weera, Tamarind, Adzirachta indica, Erythrina indica, Bala Nethopygia beddomi, Cassia fistula. There are also animals there from species rare or extinct elsewhere, including the barking deer and giant squirrel.
Rev. Deerananda proposes to extend the biodiversity and cultural influence of his sacred forest by doubling its area and developing a Bikkhu training centre in environmental issues at his temple. As Bikkhu's come from all over the country to receive training from Rev. Deerananda, 150 at a time, his ecological influence is already spreading to other parts of Sri Lanka.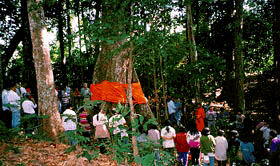 Other projects that could be funded by the DGT are the bikkhus in Thailand who are ordaining trees, and projects addressing the deforestation and dumping of radioactive wastes in Tibet.
Suggestions of suitable projects are welcome and may be addressed to:
John Seed

Rainforest Information Centre

Box 368 Lismore

NSW 2480, AUSTRALIA
or by email to: jseed@igc.org
All proposals will be assessed by the advisory board.